The vision for the Columba Theatre Project is to create a performing arts venue with an emphasis on live theatre that can accommodate professional theatre companies yet serve local theatre companies as well. Johnstown needs a stage for dramatic arts – one that is available at all times, year-round. At least six area theatre companies will have more access to professional-grade facilities, enabling them to practice and perform more often. Playwrights will be able to tap the rich historical and ethnic themes of Johnstown. Touring companies will have a new venue within which to perform between Pittsburgh and Central PA. And the Greater Johnstown's residents and businesses will benefit.
Designers are utilizing the combined resources of both the former church building and the former rectory to create a distinctive complex that will be well-equipped and comfortable for both performers and patrons; a venue that will become a center for live theatre for an entire region. The challenge is to make the necessary alterations while preserving all of the historical building's features, including a massive 40×40-foot oil painting, the limestone-appointed sanctuary, mosaic tile flooring, stained glass, sculpted-wood choir loft and carved pipe organ casework. To accomplish this, 1901 Church has engaged a highly creative and deeply experienced design team.
Support for the Columba Theatre Project has come from a wide variety of individuals and organizations including the Ancient Order of the Hibernians, Band of Brothers Shakespeare Theatre Company, Neil Brett, Community Foundation for the Alleghenies, Construction Equipment Services, 1889 Foundation, Laura and Brad Gordon, Green Gables Restaurant, Michael Hardy, Hinkle Plumbing, Art Hixon, Laura Huchel, Ethan and Nathan Kibbe, Maggie and Harold Kolonich, Landmarks SGA, Major Builders, McAneny Brothers, National Endowment for the Arts, National Trust for Historic Preservation, PA Historical and Museum Commission, Peoples Gas, Preservation Pennsylvania, Amy and Brian Reese, Geoffrey Pomerantz, Kim Rauch, Phil Solomon, Theatre Consultants Collaborative and Yohe Roofing.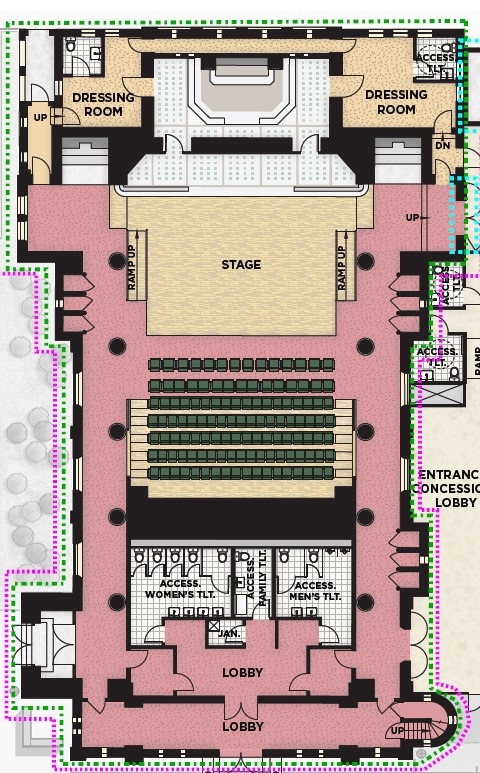 The initial phase will develop a modern, well-equipped performing arts venue with seating for 250 patrons, adaptable to cabaret seating; a 40×32-foot stage; a truss grid bearing an acoustical reflector, lights, sound, hoists and other rigging; appropriately sized, accessible restrooms underneath the seating; two dressing rooms; and a new accessible entrance.
Patrons will walk in and be surrounded by the ambiance of a Celtic-accented church building with super-life-sized figures of saints in stained glass, a striking and deeply moving oil painting and an ornate limestone sanctuary that will all disappear at showtime. This combination of cultural ambiance and performing arts professionalism promises to rank this venue among the most distinctive within the Commonwealth of Pennsylvania.
One of the first challenges tackled was what to do with the dramatic painting on the apse wall. Designers drew upon theatre magic, as explained in this video. 
Phase 2 will result in the construction of:
An infill building with a public lobby in front, restrooms and an event space in back.
A box office, concessions, coatroom and corporate offices in the former rectory.
An accessible dressing room, extra dressing rooms as needed, and a performers's green room in the former rectory.
Landscaping for the grounds of the complex.
The addition of the former rectory property to the Columba Theatre Project has been a gamechanger. While the church building offers excellent resources for the performance space itself, designers struggled with where to create front-of-house (lobby, box office and concessions) and back-of-house (dressing rooms, performers' green room) facilities. Most of these facilities will go in the house and this phase will integrate everything into a unified complex.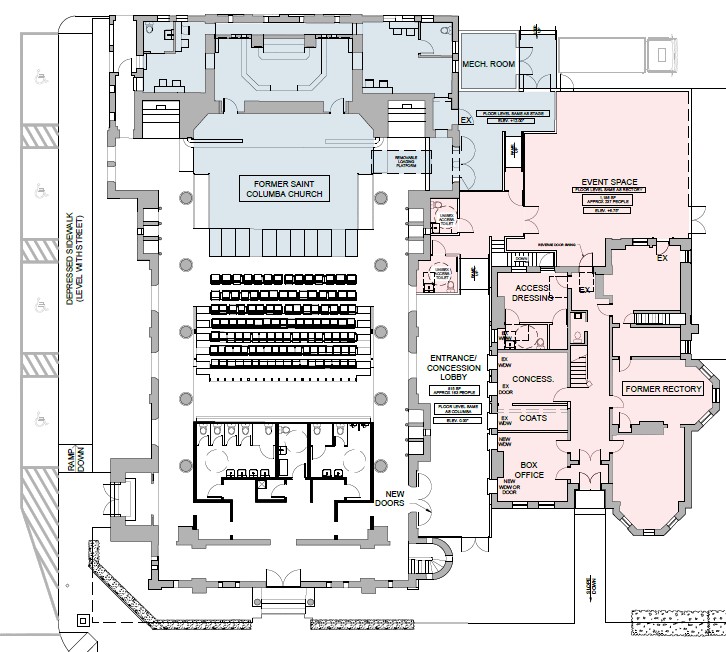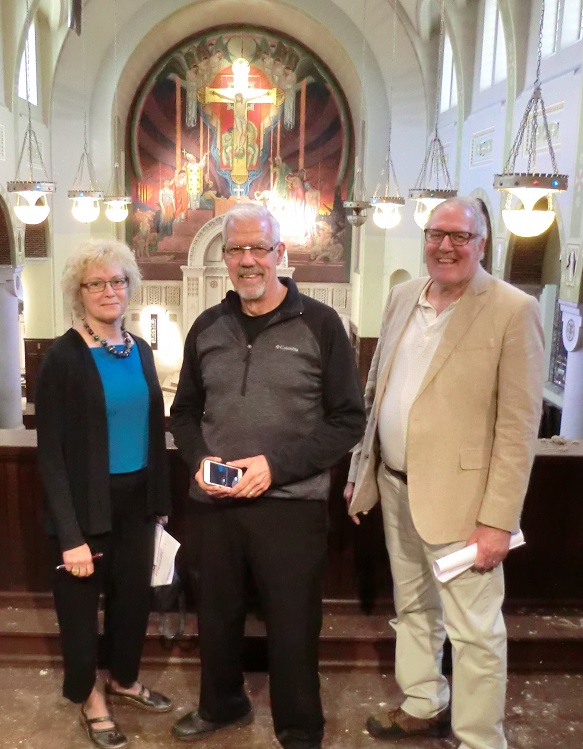 The Columba Theatre Project has been thoroughly planned, designed and vetted. A 10-member consultant team studied the feasibility of the project in 2016-17 and produced a business plan for its development. The contractor was the Southeastern Theatre Conference – a nationwide  organization connecting theatre practitioners with resources – and the team included two architects, a structural engineer, three professional-theatre designers, two theatre marketing specialists, a tourism economic development analyst and was led by Michael Hardy, who developed multiple performing arts venues during his career.
Shown here, left to right, were the core consultants, Betsey Horth, Southeastern Theatre Conference; team lead Michael Hardy, Institute for Outdoor Theatre; and Dr. Larry Gutske, tourism marketing specialist.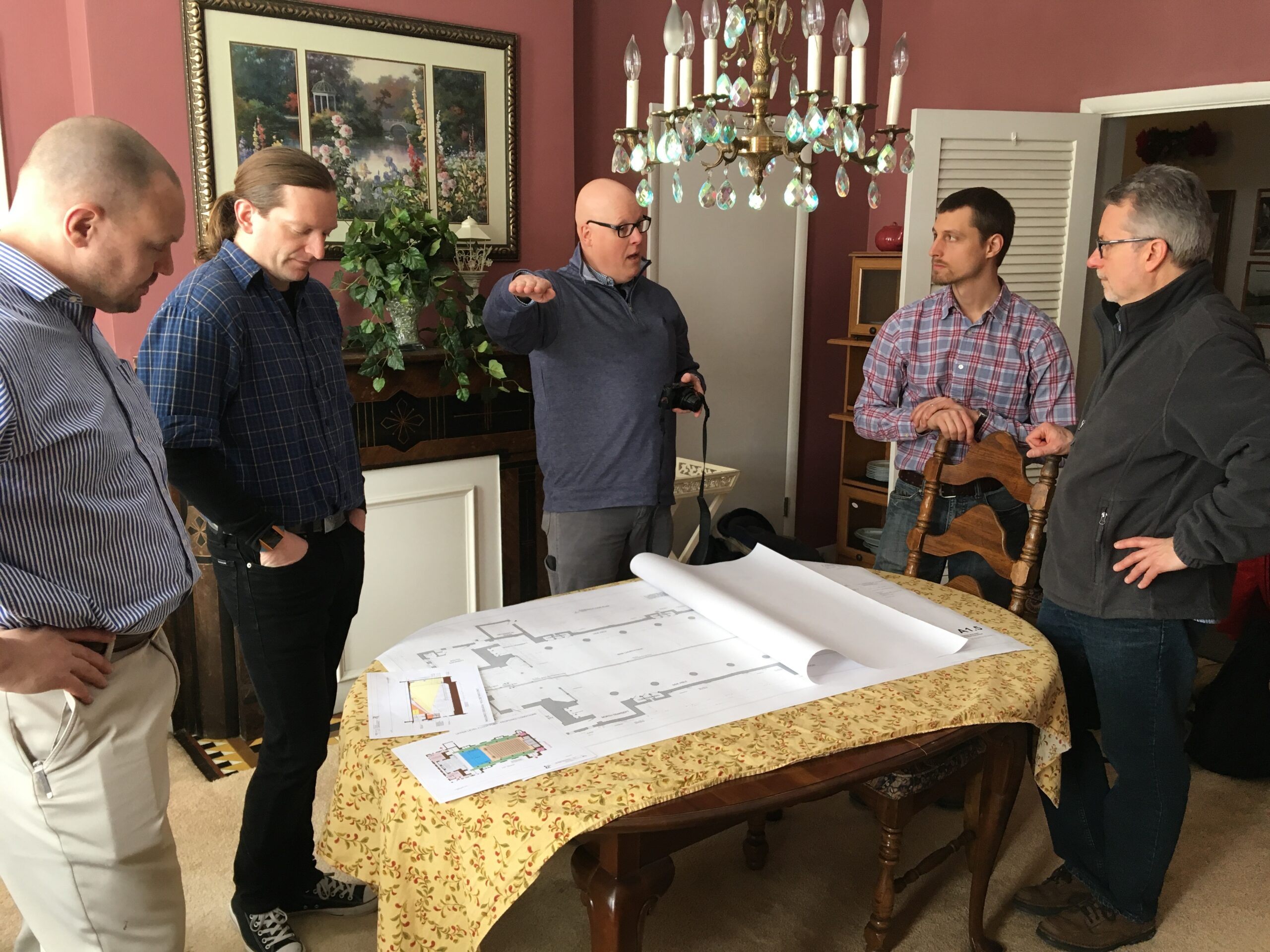 A four-firm design team has taken the Columba Theatre Project through schematic design and design development.
The design firms are:
Landmarks SGA, LLC; Somerset, PA.
Theatre Consultants Collaborative, LLC; Chapel Hill, NC.
Creative Acoustics, LLC; Westport, CT.
CJL Engineering, Johnstown, PA.
Shown here from left to right are Cristian Harbaugh, CJL Engineering; Kurt Wehmann and Paul Sanow, Theatre Consultants Collaborative; and Gary Leister III and Michael Friedhofer, Landmarks SGA. Also involved but not shown here are Robert Long, Theatre Consultants Collaborative; and David Greenberg, Creative Acoustics.
Because of the dynamic, ever-changing nature of this project, you will find the latest information on the Columba Theatre Project below.